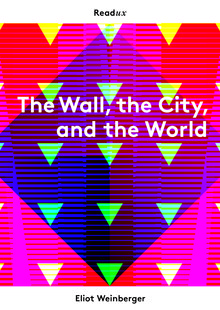 With all of the excitement of the ILB being in town, we wanted to do our part:
Readux presents three writers whose texts illuminate Berlin's past and present—and offer a glimpse into contemporary German writing: Acclaimed essayist, translator, and poet Eliot Weinberger explores life along the Berlin Wall. David Wagner, winner of the 2013 Prize of the Leipzig Book Fair, declares his love for Mauerpark. Maren Kames reads her poetry and discusses her experience on the jury of the "New German Fiction" contest.
This event is extra exciting because it offers a sneak-peak into our next series. Eliot Weinberger's The Wall, the City, and the World hasn't been announced yet, but a limited number of advance copies will be available at the event.
The details:
September 13th at 7 p.m.
Katz & Maus at The Circus Hostel*
Weinbergsweg 1a, 10119 Berlin
The event is free and open to the public.
R.S.V.P. readux@readux.net
*A little hint: the Circus has two locations near Rosenthaler Platz. We're in the hostel!
With many thanks to the Circus Hotel for their kind support!