This month two new e-only publishers for short-ish literary works have popped up in Germany. Tubuk (which okay, is technically not really indie) I'll talk about soonish, but today I'm going to focus on Mikrotext, which is very cool and highly recommended.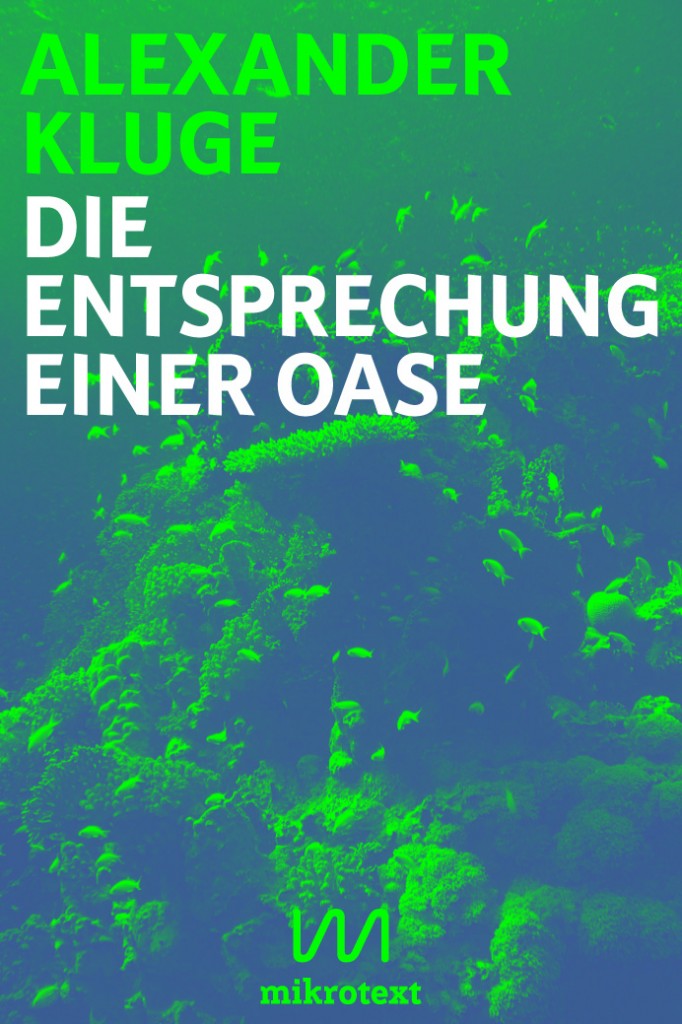 Every three months, Mikrotext will publish two e-books that are thematically linked. The books are "inspired by discussions in social media and perspectives on international debates." For now, the books are in German, but later some will also be published in English or their source language. Mikrotext is led by Nikola Richter, an author, journalist, and editor.
Mikrotext's first two titles were released at the beginning of March:
The Equivalent of an Oasis
This essay by German intellectual Alexander Kluge focuses on the internet's effect on us as readers and writers. The Equivalent of an Oasis examines the overwhelming abundance of, well, everything available on the internet, and our need to find a way to fit into it as individuals. A few points that interested me: Kluge says that younger generations are less bewildered by coming across the unfamiliar in their reading, that they don't expect homogeny from the texts they read online. But then there are ways the internet makes us less daring: "Faced with the internet, I even become more conservative in my writing. Today I wouldn't start composing expressionistic poems because the internet would completely outdo me. It is the greater poet." What are we anymore in comparison to the internet? Kluge bemoans the fact that its middlemen and not creators who earn money from the vast flows of users across the net, a system that certainly does not support the creator as an individual.
The Smartest Person on Facebook
The smartest person on Facebook just accepted my friend request (after a delay of a week or two?) and I have to admit, it was kind of thrilling. Aboud Saeed is a Syrian Facebook phenomenon, and this is a book of his posts translated into German by Sandra Hetzl. I would explain more, but his bio speaks volumes:

Aboud Saeed was born in 1983 and lives in the township of Manbij, in the province of Aleppo in northern Syria. Manbij was heavily bombed by the current provincial government in 2012 and early 2013. Aboud Saeed lives with his mother and seven siblings in one room in a small house. After the ninth grade, he left school, and learned to be a smith and welder. For the past 11 years, he's worked in a workshop. For three years he was a foreign worker in a plastic factory in Lebanon, where he lived in a tin shack. In 2008, he received a high school equivalency, and enrolled in a university to study economics. The university is currently closed due to the political situation. In 2009 Saeed created a Facebook account and posted there every day. The Smartest Person on Facebook, a selection of his status updates, in which he writes about his mother, smoking, Facebook, love, and daily life during the violent Syrian conflict, is his first book. The Lebanese newspaper Annahar wrote of him in late December 2012, "Going on Facebook without getting to know Aboud Saeed is like traveling to Paris without seeing the Eiffel Tower."
Saeed's Facebook feed is a lot of fun to read. It's quippy and clever and exotic but relatable. It is by turns brazenly egotistical and unaware of the shape of its egotism. That, or so hyper-aware, that it knows when the appearance of innocence would be interesting.
The political and the personal: it's nice to get a relatively unfiltered view of daily life in Syria (albeit translated & edited). I certainly am not getting that either from the news or documentaries, no matter how "sympathetic." Often his updates give us a blackly comic glimpse into the political realities of those living in Manbij:

May 6, 2012 at 1:24am
In Manbij, adolescents google "Israeli sex." They assume Israeli sex is different. Of course, that's a consequence of the anti-imperial resistance
187 Likes
June 23, 2012 at 3:32pm
Maybe there's less death on Twitter?
124 Likes
Saeed is perhaps the world master of the humble brag, fitting for a medium of endless self-reflection. Then there are the times when Facebook spills out of his computer, into his life. Moments that make you realize that vague overused terms like "medium" may be too restrictive for Saeed's Facebook:
April 23, 2012 at 9:42am
Sometimes one of my Facebook friends, a journalist or a writer, will suddenly show up on the television screen. Then I try to convince my mother: "Look, Mama! That's a friend of mine! I talk to her every day! We chat, we make jokes with one another and yesterday she liked my status…" Then my mother laughs and says, "Aboud, my dear. When will you finally grow up?"
203 Likes
Women seem to fall into two categories for Saeed: his mother and the rest of us. The rest of us are often the subject of little jokes that hover between cute and groan-worthy, but definitely contribute to the book's quirk-factor:
January 19, 2013 at 2:10pm
Hard, jabbing morning / like the bra of a girl who buys bras by the kilo.
40 Likes
You can see translator Sandra Hetzl talk about
The Smartest Person on Facebook
at the Leipzig Book Fair on Friday, March 15 at 1pm, in Hall 3.0, Forum Hörbuch+Literatur. In German.