While in Morocco, I read a copy of every North African Francophone newspaper available at most newsstands. By and large, they were either regurgitated pulp interrupted by long, predictable editorials or fluffy nonsense aimed at the hyperrich. Notable exception: La Verité, which commented intelligently on AFP's (Agence France-Presse) confused lumping of Morocco with less-stable North-African countries, and made an in-depth analysis of Egypt's slipping cultural and political stature in the Arab world and how it led to the current revolution. Less-notable exception: L'Opinion, which offered a clearer, more professional perspective than the other papers, and seemed more intellectual — it even had an honest-to-god culture section with reviews of Maghrebian books, art events, etc.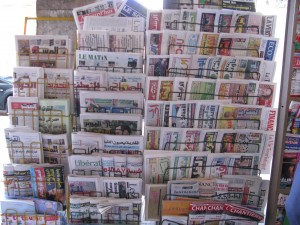 To be fair, most of the papers did intelligibly discuss current events, such that a regular reader would be reasonably informed. However, I was disappointed at how little the papers benefitted from being local. Throughout the week I read Le Monde parallel to the North African papers, and I have to say there's little to be gained from the locals (previously noted exception: La Verité).
Ahmed, a 30-something engineer and Rabat-native, told me that most people don't read newspapers, no surprise considering the low literacy rate. When I asked what I was missing in the Arabic papers, he said, "They're a little more conservative, but it's basically the same crap." How do Arabic newspapers' audiences differ from French ones'? "It's whatever langua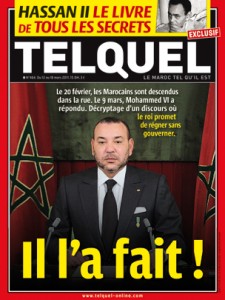 ge you feel more comfortable in. I studied science and our courses are in French, it's my second mother-tongue. Someone like an Arabic literature professor, who studied Arabic classics, might read an Arabic paper, though maybe they're not any more conservative than me."*
I also picked up a copy of the news magazine TelQuel ("Le Maroc, tel qu'il est"), which I would describe as being like Newsweek back in the day but not as good. I read it on a train from Marrakech to Rabat, where I happened to be in a compartment with three unconnected German-educated female Moroccan professionals, all reading TelQuel as well. Um so whatever demographic info you want to draw from that…
In short: If you're in Morocco for a week, read La Verité and TelQuel. For two weeks, try L'Opinion as well.
*Translated from French as I remember it a day later.

This text by Amanda DeMarco is licensed under a Creative Commons Attribution-NonCommercial-ShareAlike 3.0 Unported License.